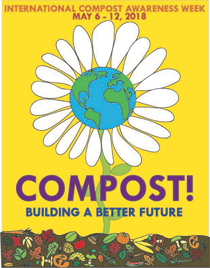 The U.S. Composting Council is accepting submissions for its annual poster contest. The winner will receive $500 and his or her poster will be used to promote 2019 International Compost Awareness Week. This year's theme is, "Cool the Climate — Compost!"
The contest is open to anyone who wants to help celebrate composting and promote the benefits of compost. Posters may be entered in one of three divisions: grades 3-7, grades 8-12, and college/adult.
The successful poster winner will receive a $500 prize.
Entries due November 5, 2018.
Enter the contest here:
https://www.compostfoundation.org/ICAW/ICAW-Poster-Contest